Pangolin wood-burning sauna stove is the first metal and ceramic sauna stove manufactured by TMF. This steel sauna stove is coated with natural terracotta ceramic tiles.
The new stove has sufficient power to heat a steam room of 12–24 m3.
Terracotta, or backed clay, is a reliable and very durable material used for decoration. The main advantage of terracotta tiles is a soft heat emission during the stove operation. The stove neither radiates hot rays nor provides a strong emission, but rather ensures a mild and uniform heating like a brick stove. Thanks to its metal case covered by terracotta tiles, the stove cools down more slowly. Ceramics accumulates heat perfectly, just like a blanket, and gradually transfers the heat into environment.
Besides working as a heat accumulator and a source of soft heat rays, the terracotta tiles also have a decorative function. You can create your own ornament by using tiles of two different colours. We have an Alpha Pangolin model made in one colour—terracotta. Besides, we have a model with tiles of two colours—terracotta and light beige fire clay—which perfectly fit together. You can use the tiles to create an individual colour pattern. The tiles are very easy to use. If a tile becomes dirty of damaged, you can easily remove it for cleaning or replacement.
It should be noted that the stove was designed for the "Russian Banya" steaming mode. The Alpha Pangolin stove generates a high-quality soft steam and employs the same patented technology of two-stage steam generation as we use in all Geyzer wood-burning stoves, which have been keeping the leading position among all TMF sauna stoves for the last several years.
The stove has two sauna heaters—an internal closed heater, which is evenly heated by heat emission and gas-flame flow convection from all sides, and an external opened one. Water is supplied through a funnel with a non-return valve to the closed heater where it is evaporated. However, rather than being directly supplied to the steam room, the steam is taken to the opened heater at a high speed, overheated there, and only then is supplied to the steam room as a soft and comfort steam without any hot splashes. The internal closed sauna heater has a double-pitched top surface designed to minimise soot accumulation inside the furnace.
The stove is equipped with a cast iron door having a large 40 cm translucent screen. The door is sealed with a refractory glass-fibre cord along its entire perimeter that prevents excessive draught. A slot at the top of the door is designed to provide airflow to the glass and thus to prevent intensive soot accumulation. The slot also ensures correct stove operation when the ash drawer is closed. This prevents the stove from overheating and prolongs its service life.
Alpha Pangolin's heated elements are made of heat-resistant high-allow steel. We provide a complete 3-year warranty for the integrity of metal parts and welded joints of the furnace.
Our production line includes two models: Alpha Pangolin and Alpha Pangolin Light. The stoves have the same construction and operating principle. They differ in tile-covered flue, which may be included or not included into the delivery package. The delivery package of Alpha Pangolin Light does not include the flue, whilst Alpha Pangolin has it.
Regardless of the model, the terracotta tiles are supplied in wooden crates together with the stove. The required number of the tiles is specified for each model in the Operating Manual. We supply some extra tiles to replace one or two lost or damaged tiles.
"Alpha" is the first letter of the Greek alphabet, and we use it in the stove name to underline this is the first stove in the TMF's series of metal and ceramic sauna stoves.
Some Interesting Facts about Alpha Pangolin's Ceramic Tiles
People have been using terracotta ceramics, or backed clay, since ancient times. It may be the first artificial material in the human history. The most ancient item made of backed clay is dated 29–25th centuries BC.
Many thousands years ago, people have invented a way to hide the fire under a clay dome. Even today, clay is still considered to be the best material for stoves manufacturing. A warm clay stove is the most ancient symbol of comfort.
Terracotta is one of the most positive and warm colours. This colour has been present in human life since the ancient times, making people feel comfort, relaxation, and tranquillity, being connected to nature, and creating a pleasant and comfort environment.
The terracotta tiles covering the new stove have a nice shape, size, and a pleasant colour of pangolin's scales. Scales are one of the most ancient and wonderful creation of nature. They cover fishes, snakes, and some animals. And pangolin is among them. It is an ancient exotic animal, which looks like a huge living fir cone. It has been evolving until the present times and has inspired us to create tiles for the metal and ceramic stoves we named after it.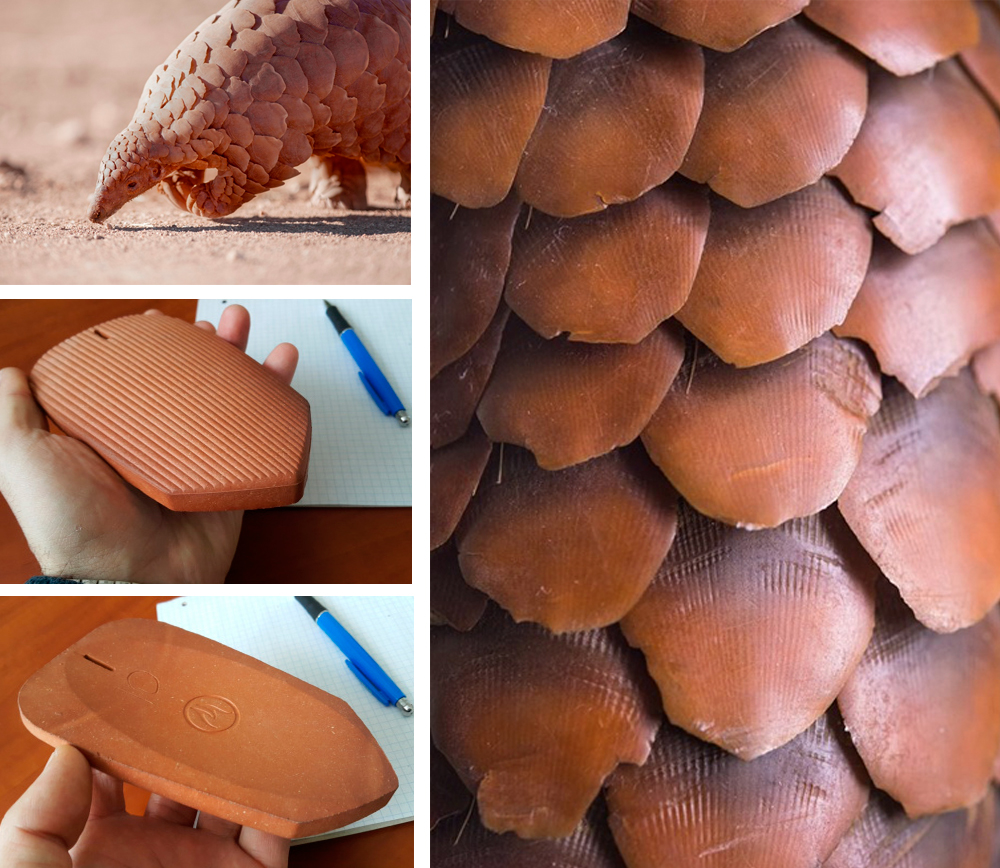 We combined the most ancient artificial material with this wonder of nature to create pangolin's scales from terracotta and to cover our metal stove with the scales.
Many owners of metal sauna stoves cover the stoves with bricks. And not without a reason! The bricks are made from the same backed clay, and their heated surface radiates a pleasant and soft heat, which is highly appreciated by those who love Russian banyas.
Scales of some animals, such as snakes, may form various colour patterns. We used this snake-like pattern as a base for our two-colour models.
You may think that correct installation of the tiles is very tricky. And that only experienced experts can cover a metal stove with tiles by thoroughly aligning them against each other. With the Pangolin metal and ceramic stove, this is definitely not the case!
You can easily decorate your sauna stove with these beautiful tiles by yourself. The way you decorate a Christmas tree. You can ask your family to help you. Even your children! It is very exciting and easy to do together with your family. Every upper row of tiles covers fasteners of a lower row. The same way as an upper row of scales of plants or animals covers the places where a lower row scales are attached.
If you do not manage to fix all the tiles perfectly aligned, do not worry! You do not need them to be ideal. Take a look at a beautiful fir cone. Its scales are not perfectly equal—they differ from each other in size and shape. However, this does not make the cone less beautiful. Besides, you can always correct the alignment.
Specifications
Dimensions (L×W×H) 800х586х1050 mm
Volume of the steam room (min) 12 m3
Volume of the steam room (max) 24 m3
Volume of the firebox 60 l
Stone mass 40 kg
Maximum log length 400 mm
Mass 158 kg
Chimney diameter 115 mm
Minimum chimney height 5 m