 
Air - Air heat pump NORDIC DLX 3,5 / 4,0 kw
Air-to-air  heat pumps transfer heat or cold directly to indoor air like air conditioners. The inverter allows you to achieve fast heating and cooling with minimal electricity consumption. The main differences between air-to-air heat pumps and air conditioners are efficiency and operating temperature. Ordinary air conditioners can often only heat to an outdoor temperature of -15ºC, and at negative temperatures their efficiency drops significantly. Meanwhile, air-to-air heat pumps can heat perfectly and efficiently even down to -30ºC, and their adaptation to such conditions allows the equipment to last longer.
Security policy
You can make payment by bank or in shop
Delivery time
From 2-14 days (if the product is in stock)
100% money back
If you are not satisfied with the product, we guarantee a refund 14 days of receiving the products

Pleasant coolness, without cold air gusts


Samsung Nordic series heat pump air - the air is adapted for heating in colder climates, so it works easily and efficiently even at -30 ° C. The indoor unit with Wind-Free technology gently and evenly distributes cool air through 21,000 micro-holes in the air conditioner housing. It maintains a pleasant coolness without cold air gusts.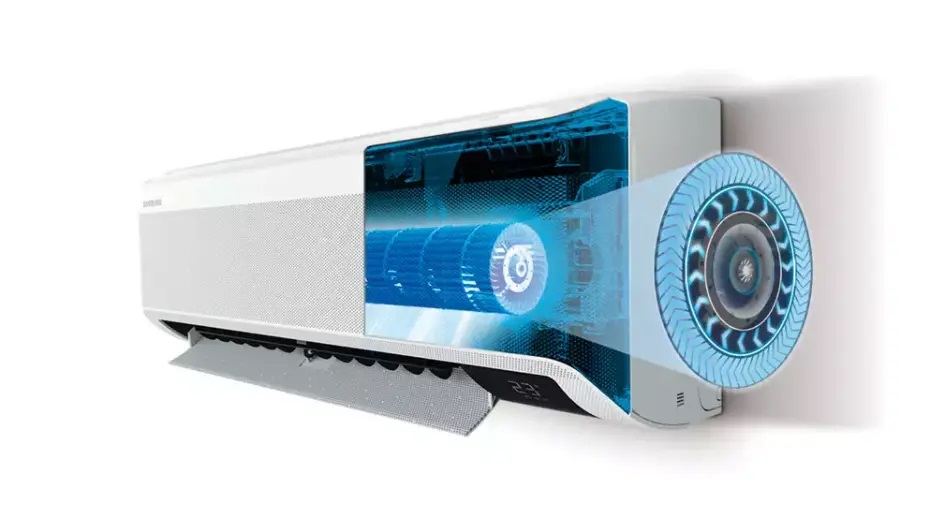 The ECO regime is an efficient and economical solution


When ECO mode is activated, less compressor power is used than in normal mode. This option reduces energy consumption but works just as efficiently. When it's not very hot outside, the heat pump's air cools more efficiently, saving both energy and money.



More efficient cooling automatically


The desired temperature is reached quickly in fast cooling mode and is maintained in windless cooling mode.

Pleasant coolness thanks to windless cooling


This mode gently, evenly and quietly distributes air through thousands of microtubes in the front housing of the air conditioner. Advanced technology perfectly cools larger and larger rooms. With Wind Free Cooling, you will not feel cold, just pleasant coolness. In addition, it consumes 77% less energy than the fast cooling mode.

Faster, wider and faster with fast cooling


It quickly cools the room from corner to corner, so you will feel comfortable anywhere. The modern design of the device has a 15% larger fan, an 18% wider opening and a 31% wider wing. So the air is distributed further and wider - up to 15 meters.



Motion sensor and tracking function


If the motion sensor does not detect motion within 20 minutes, it automatically switches to energy-saving mode without wind. You can also set the machine not to blow air on you or vice versa - the coolness will follow you wherever you go.



Better sleep for the whole family


Good sleep combined with Wind-Free creates the ideal environment for quality sleep. Samsung's sleep mode is adapted to 3 phases of sleep:
Sleep phase. The room is pleasantly cool.
Deep sleep phase. The lowest temperature is automatically maintained from 2 am to 7 am.
Awakening phase. The temperature gradually rises to create a gentle awakening effect.



Easier life with SmartThings


Remote control


Indoor heat pump air - the air unit has Wi-fi. With SmartThings, you can remotely monitor and control the operation of your air conditioner wherever you are.

Smart life


The intelligent AI Auto comfort function analyzes the ambient temperature and operating habits of the device and optimizes various modes. Based on the average (usually set) indoor temperature and outdoor temperature, the unit selects the optimal climate mode. You can also remotely control the settings for the on, off, and timer functions using the SmartThings app.



Air quality monitoring


Indoor air quality can be monitored continuously in the SmartThings app. Even when the unit is switched off, the dust sensor is able to detect the current indoor air quality. When the pollution reaches a "bad" or "very bad" level, a message is displayed on the smart device and the air purification mode can be activated in the SmartThings app.



Extremely quiet operation


Samsung heat pumps are not only at the forefront of advanced technology. The quiet operation of this heat pump is only 17 dB - the lowest on the market, so Samsung Nordic Wind-Free can be installed in a bedroom, children's room, office or other quiet environment and provide a harmonious indoor climate.